News & Events
News & Events
UBA-Approved EPDM Elastomer
April 12, 2018
DiaCom Corporation introduces a new EPDM Elastomer developed to meet the various European water regulatory agency requirements for potable water. This newly developed EPDM material has UBA, ACS and WRAS approval. Diacom has the ability to mold with this material in homogenous diaphragms and other seals, fabric reinforced diaphragms both double and single coat and PTFE faced diaphragms.
FFKM - Perfluoroelastomer Diaphragms & Seals
April 4, 2018
DiaCom Corporation is pleased to introduce diaphragms custom manufactured with advanced peroxide-cured perfluoroelastomer (FFKM) into our lineup. These diaphragms and seals are specially formulated for broad chemical resistance in multiple environments requiring flexibility and heat resistance. The compound used has outstanding hot air resistance, improved high temperature compression set resistance, good strength and flexibility, inherent ozone resistance and excellent permeability resistance. Diacom can mold this material with or without fabric reinforcement, and can over-mold it to metal inserts.
PTFE-Faced Diaphragms
April 4, 2018
In efforts to manufacture diaphragms which are able to stand up to the most chemically aggressive of environments, DiaCom Corporation has once again innovated a new line of PTFE-faced diaphragms. DiaCom Corporation uses a variety of fluorinated films including PTFE, TFM, PFA, and FEP. These diaphragms are compatible with harsh environments without limiting their life and responsiveness. For additional strength, fabric reinforcement can be added to the PTFE composite. Bonded inserts of stanless steel, brass, plastic, and cold-rolled steel are often incorporated into these diaphragms as well to reduce process and assembly steps and add value.
Dia Tuff - Heavy Duty Diaphragm Seals
January 27, 2017
Dia•Tuff™, a specialty industrial fabric composed of a proprietary high strength yarn, spun from a liquid crystal polymer. This new fabric can be utilized in conjunction with a variety of specialty elastomers that include: HNBR, EPDM, FKMs, Perfluroelastomers, FEPMs, Vamac ®, and Fluorosilicones. Dia•Tuff™ diaphragms are perfect for use in applications which are beyond the capabilities of traditional fabric reinforced diaphragms.
Ionic Hybrid Elastomers
December 28, 2016
DiaCom has developed elastomer formulations using Ionic Hybrid Technology in combination with additional compound refinements and enhancements to offer improved flex life. This technology can be utilized in any Diaphragm design and geometry, which include with or without fabric reinforcement, bonded inserts and barrier films. Ionic hybrid cure technology can also be combined with DiaCom's Fab-Air dispersed fiber.
Elastomeric Diaphragm Seals
February 7, 2016
The DiaCom Proprietary Double-coat process has been developed so the elastomer is not "formed" from calendared sheet stock but is molded from an equal amount of unvulcanized elastomer on each side of the fabric. This eliminates dimensional instability and ensures that the fabric is constantly oriented near the center of the part, which has traditionally been problematic with double coat diaphragms produced from calendared material.
Fab Air™ Diaphragm
January 14, 2015
Diacom Corporation introduces a new line of specialty diaphragms composed of our Fab-Air™ Elastomer, which offer the advantages of fabric reinforcement in a homogeneous diaphragm construction.
Chemical Packaging Seals
September 1, 2012
DiaCom has developed an industry-leading packaging liner, composed of fluorinated films with advanced elastomers, that seals air and moisture from sensitive solvents and reagents.
Nano Seals
November 4, 2012
Nano Diaphragms™ have been developed by DiaCom Corporation to meet the ever-increasing demand for effective seals in a wide range of miniaturized applications, from precision instruments and medical devices to aerospace.
Small Engine Carburetor Diaphragms
DiaCom is a leading manufacturer of small engine carburetor diaphragm seals, which are designed specifically for ultra-sensitive and fuel resistant applications.
Check out our WRAS approved material
Diacom Corporation Strengthens Their R&D Department; Appoints Derek Sargant, Sr. Materials Engineer
August 17, 2009
Diacom Corporation Strengthens Presence in Asia; Appoints Tom Lonfei, Sales Engineer for China
August 1 2009
DiaCom's Quality System QS9000 principles have been replaced by the IATF to TS16949 Standard
The Quality Management System is based on the International and Technical Standard written by the International Automotive Task Force (IATF).
The Quality Management System is based on using a Process Approach in our activities, recognizing that all our activities are linked together toward a common quality objective: to enhance Customer Satisfaction through an effective application of the Management System, including processes for Continual Improvement of the system and conformity to customer requirements.
A Process Approach emphasizes the importance of -
Understanding and meeting requirements
The need to consider processes in terms of added value
Obtaining results of process performance and effectiveness
Continual improvement of processes based on objective measurement
DiaCom is the first U.S. Company in our industry to successfully achieve certification of the ISO/TS16949 Quality System, on October 18, 2004.
DiaCom is pleased to announce the addition of our new European Sales Manager, Steve Marsh
Steve joined the DiaCom team in June 2011 as our European Sales Engineer for the UK. Steve comes to Diacom with a great deal of experience in technical sales and manufacturing and will be managing all of DiaCom's European operations.
DiaCom European Operations
Phone: +44 (0) 2380 846856
e- mail: stevem@diacom.com
T-Flex ™ Diaphragms
DiaCom has recently introduced diaphragms using a new high strength PTFE material. This new material is specially designed to not thin in formed areas as associated with a standard PTFE material and will outlast a standard PTFE diaphragm in a side by side cycle test by as much as ten times! Please contact us if you would like more information.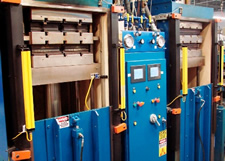 Have Questions?
Notice: Undefined index: submit in /data/home/qxu1885270140/htdocs/contact-form.php on line 38